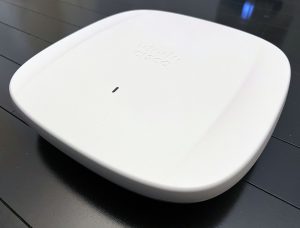 The Catalyst 9136 is Cisco's latest addition to the Catalyst 9100 AP line up, and is their first AP with Wi-Fi 6E (6GHz) capability. This is the big brother to the 9130, in pretty much every way. The Cisco Champions program allowed me to test the 9136, and I was pleasantly surprised when I first saw the AP. It has a modern and pleasing design, with a "hood bulge" across the top. It is also smaller and lighter than I expected it would be. Considering how many radios are inside this beast, the form factor is very impressive.

Catalyst 9136 Radios
Let's dive into how many radios are inside this AP:
Each of the Wi-Fi radios support DL/UL OFDMA and MU-MIMO

2.4GHz: 4×4
5GHz: 8×8 – At release, this radio is advertised as a single 8×8, but it is expected that in the future it will be able to split into two separate 4×4 5GHz radios like previous models.
6GHz: 4×4 – At release, the AXI (internal antenna) model supports Low Power Indoor (LPI) Operation

2.4GHz BLE IoT Radio
CleanAir/Scanning Radio
Since Cisco loaned me this AP, I couldn't take it apart to see the inside. However, looking at the photos of the inside of the AP from the FCC test documentation, I counted 15 separate antenna elements within this AP (some antenna elements are dual-band).
Wired Connectivity and PoE
The Catalyst 9136 has two mGig (5Gbps max) uplink ports with dual PoE-In power redundancy. In critical deployments, this allows for splitting the connections between two stacked switches and the AP will remain powered on if one of the switches fails. Note that PoE redundancy will consume twice the PoE budget, as the switch(es) will reserve the full amount of power for both ports. I was really hoping we would be able to combine PoE between two 802.3at switch ports to achieve the hefty PoE requirements, but that is not the case.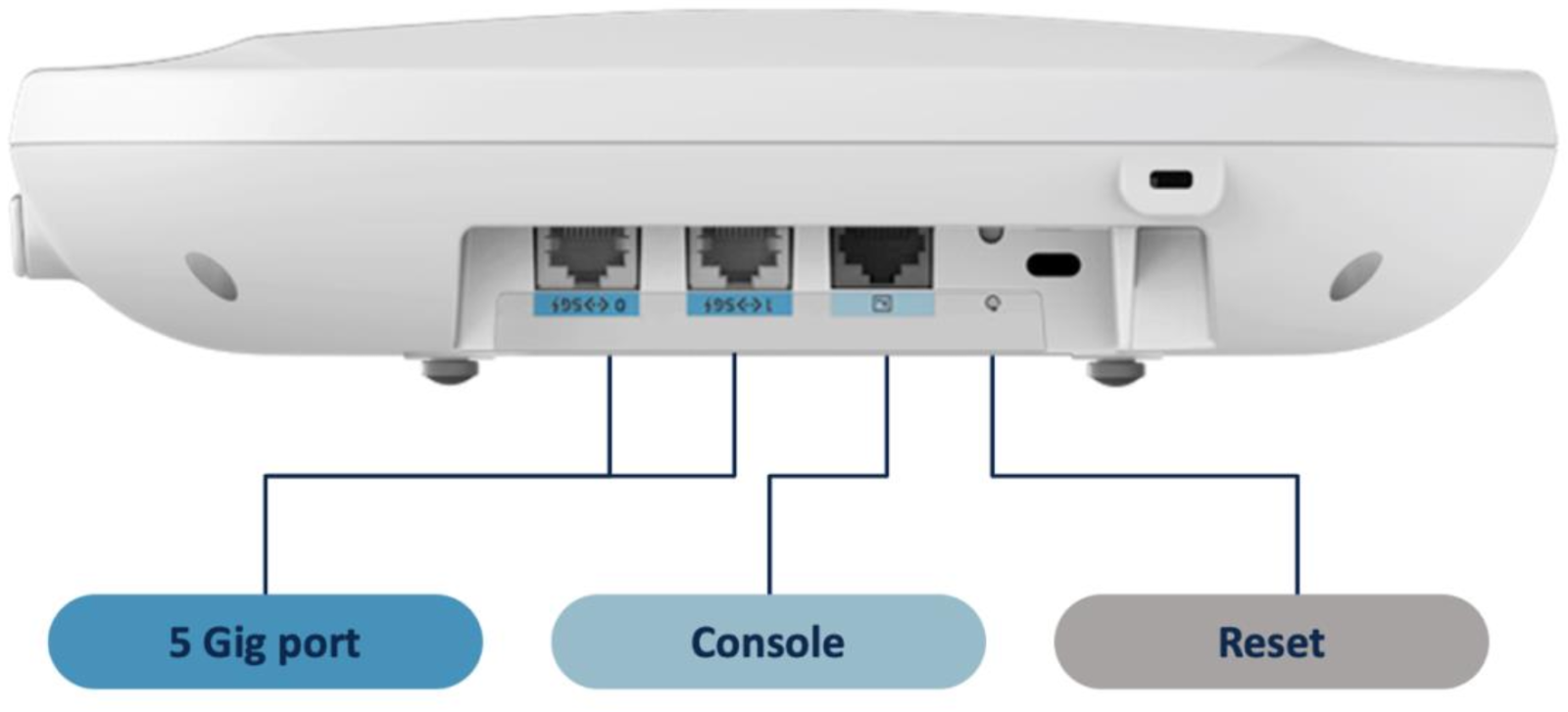 The PoE requirements are outlined in the chart below. I continue to be impressed that Cisco allows their APs to function (albeit, in very limited capacity) on 802.3af PoE. You would obviously not want to run this AP on 802.3af power in production, but it allows the AP to be staged and tested (on 2.4 and 5GHz) with only 14W of power. In order to gain full functionality, you need to provide the AP with 46.5W of 802.3bt PoE, which equates to a little over 48W of PoE at the switch itself.

Comparing the Catalyst 9136 with its Little Brother, the 9130
As an evolution of the Catalyst 9130, they share very similar specs for the 2.4 (4×4) and 5GHz (8×8) bands. But that's where the similarities end. Obviously, the big change is the 9136 introduces the 6GHz band to the portfolio. It has two 5Gbps mGig ports, to the 9130's one. The 9136 is about 1″ larger in length and width, with a smoother appearance. The 9136 doesn't look much (if any) larger than a 9120 or 9130, at a glance. You have to place the two APs next to each other to really tell the 9136 is any larger than the 9130. The beveled edge around the top of the AP has also been removed. For comparison, here's a family photo: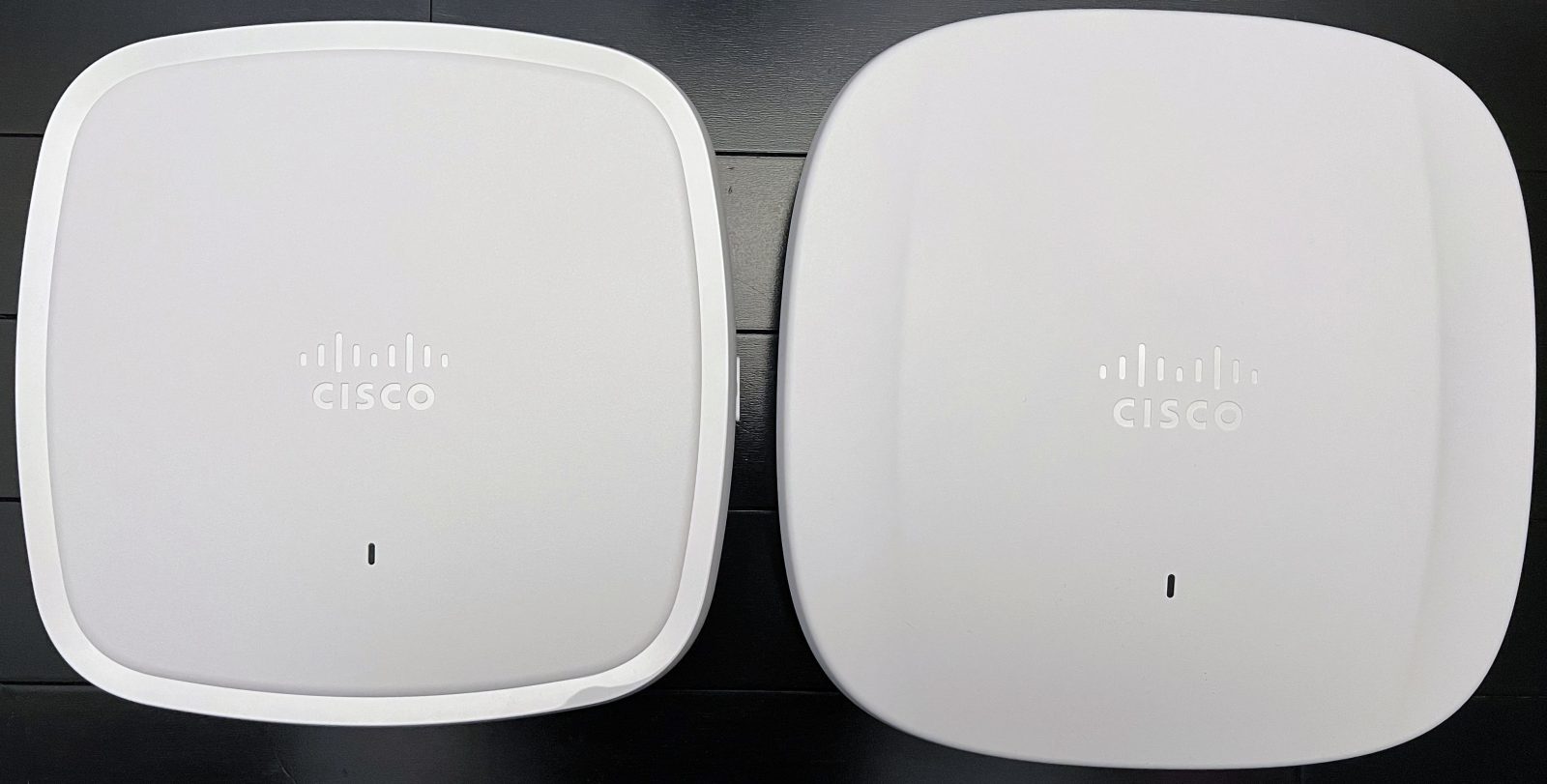 Mounting Options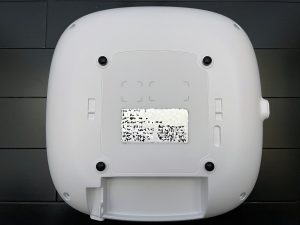 The 9136 AP uses the same bracket as previous APs: The AIR-AP-BRACKET-1 and AIR-AP-BRACKET-2! It has the same rubber feet / mounting pegs that you're probably familiar with if you've worked with any of Cisco's APs in the last decade. I believe the first AP with this mount was the 1142/3502, but I could be wrong.
Catalyst 9136 Specifications
I've sprinkled most of the specs throughout this article, but I'll list them here for easier reference
Radios

2.4GHz – 4×4 (slot 0)
5GHz – 8×8 (slot 1 and 2)
6GHz – 4×4 (slot 3)
Dedicated IoT/BLE radio
Dedicated Scanning/CleanAir (2×2)

Wi-Fi Capabilities

802.11ax
UL and DL OFDMA
MU-MIMO
1024 QAM, with max PHY of 10.2Gbps

Dimensions

9.9 x 9×9 x 2.2 in (25.1 x 25.1 x 5.6cm)
Weight: 3.5lbs

PoE

Redundant (dual) 802.3af/at/bt PoE-In
46.5W required for full functionality

Ports

Dual 5Gbps mGig with redundant PoE-In
Console port
USB port with 9W power capability

Minimum Software Versions / Interoperability

Catalyst 9800: v17.7.1
DNA Center: v2.3.2
Prime Infrastructure: v3.10
CMX: v10.6.3-75
DNA Spaces Connector: v2.3.2
ISE: v2.6
Speed Tests and other New Challenges
Running speed tests on the 9136 proved to be more challenging than Wi-Fi speed tests usually are. Not because the AP is difficult to work with, but because you need to have all of your ducks in a row in order to achieve the speeds that these APs are capable of.
The first hurdle is you need to have the AP connected to an mGig port, connected at a rate of at least 2.5Gbps. Your speed test server must also be connected at least at that speed. That means, from a practical sense, this is really the first time mGig can show some real gains in the enterprise. Sure, with dual-5GHz and 80MHz channels + 2.4 clients you could exceed 1Gbps on a 3802, but how often do you run 80MHz channels in the enterprise? With the 9136, you can easily exceed 1Gbps with one client on just the 6GHz band. This is possible because 160MHz channels may actually be practical in some enterprise environments. Even if you run 80MHz, if you combine that with the 5GHz and 2.4GHz radios, you will likely exceed 1Gbps at the wire.
Second, I noticed that with the HTML5 speed test, certain browsers report better speeds than others. Firefox seemed to show the worst speeds of the bunch. Apparently these APs move enough bits that some browsers can't actually keep up. I had seen this with wired 10Gbps speed tests in the past, but I didn't expect it to impact these tests.
I was surprised to see that a couple-year-old laptop (which obviously didn't have antennas intended for use with 6GHz) retrofitted with an Intel AX210 NIC did very well in the speed tests. My other test client was a Samsung Galaxy S21 Ultra 5G, which for some reason had a harder time getting great speed test results. I've heard from others with the same device that theirs was testing even better than laptops, so I'm not sure what is up with my particular S21. I plan to continue testing with it for as long as I am allowed to keep the AP. I will update this if I learn any settings that improve the speed.
Here are a couple screenshots from the Galaxy S21 showing the Wi-Fi 6E Icon:


On my Catalyst 9800, I noticed that having AVC enabled actually impacted the speeds I was able to achieve, by 10-20%. I don't imagine this would be the case on a big enterprise 9800-40 or 9800-80, but I did see a difference in my environment.
Most of the time, I would see speeds in the neighborhood of 1500-1600Mbps, but occasionally I would see speeds north of 1800Mbps. I was unable to determine a correlation with the increased speeds. Usually the upstream speed was about 10% faster than the downstream speed, too.
Here are some of the results I got from the many speed tests I ran: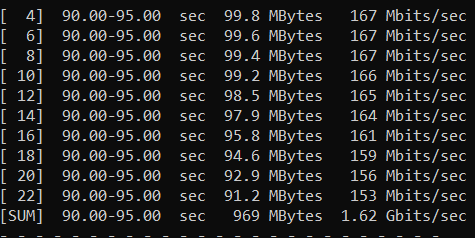 I ran some concurrent tests with multiple clients and saw what I would consider to be a standard combined rate for all of them, as long as the tests were running in the same direction at the same time. If one client was testing upstream while the other was testing downstream, the overall throughput suffered greatly. The same thing happens with 2.4 and 5GHz APs, so this is not unique to 6GHz or the 9136.
Caveats and Limitations
Firstly, and most disappointingly, this AP does not support Embedded Wireless Controller (EWC). It also cannot join another existing EWC AP.
Also, at launch this AP does not support Mesh mode. While this is probably not a huge deal, as it is an indoor AP, I'm sure there are folks that will be disappointed by this.
Catalyst 9136 Site Survey Mode
Due to the fact that this AP is not capable of EWC mode, Cisco came up with a "Site Survey Mode" that allows us Wi-Fi engineers to configure the AP to operate autonomously (pun intended) for AP-on-a-Stick site surveys. It is very simple to convert to (and from) site survey mode; the command "ap-type [site-survey/capwap]". This mode will allow you to configure the channel, channel width, transmit power (currently represented in "Power level" numbers instead of dBm), SSID, data rates, and all the other essentials for conducting a site survey. Site Survey Mode presents itself with a simple, very AireOS-like GUI for the task: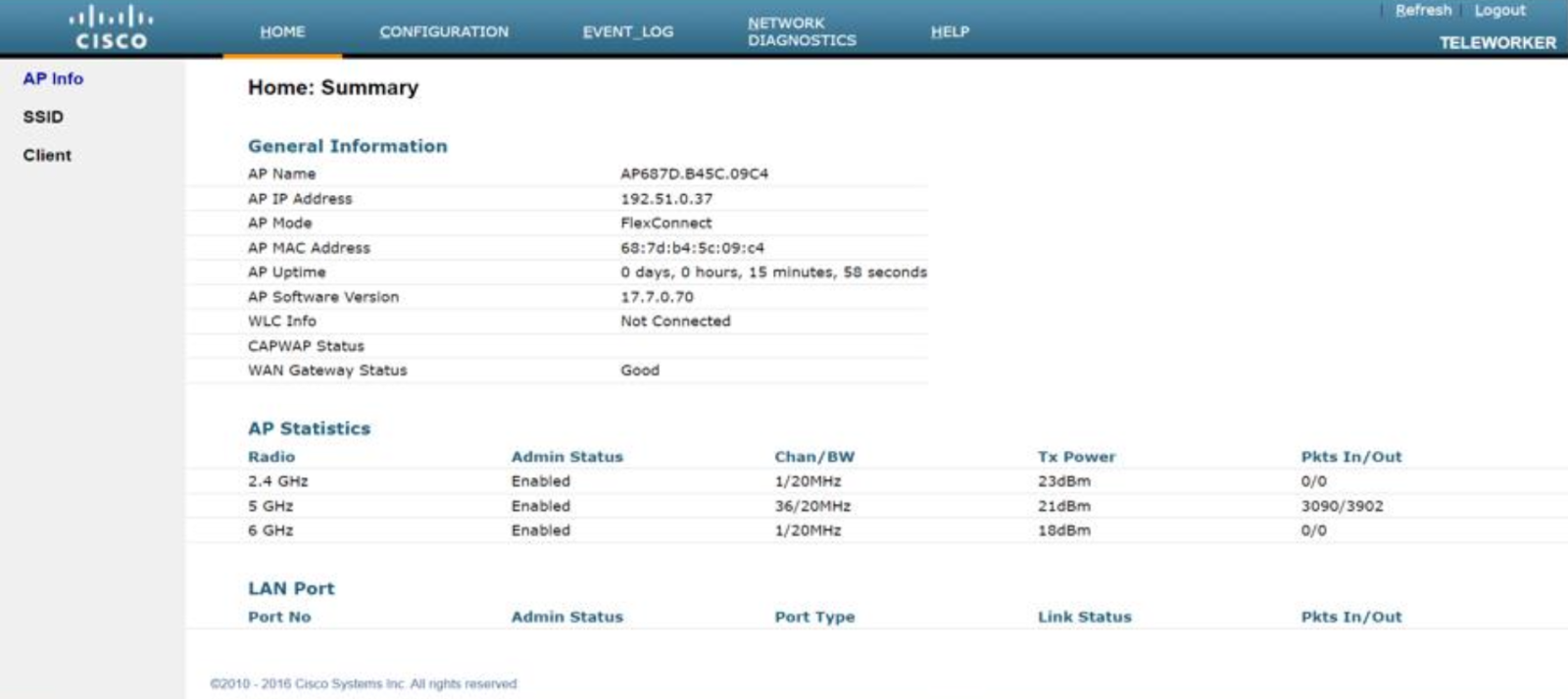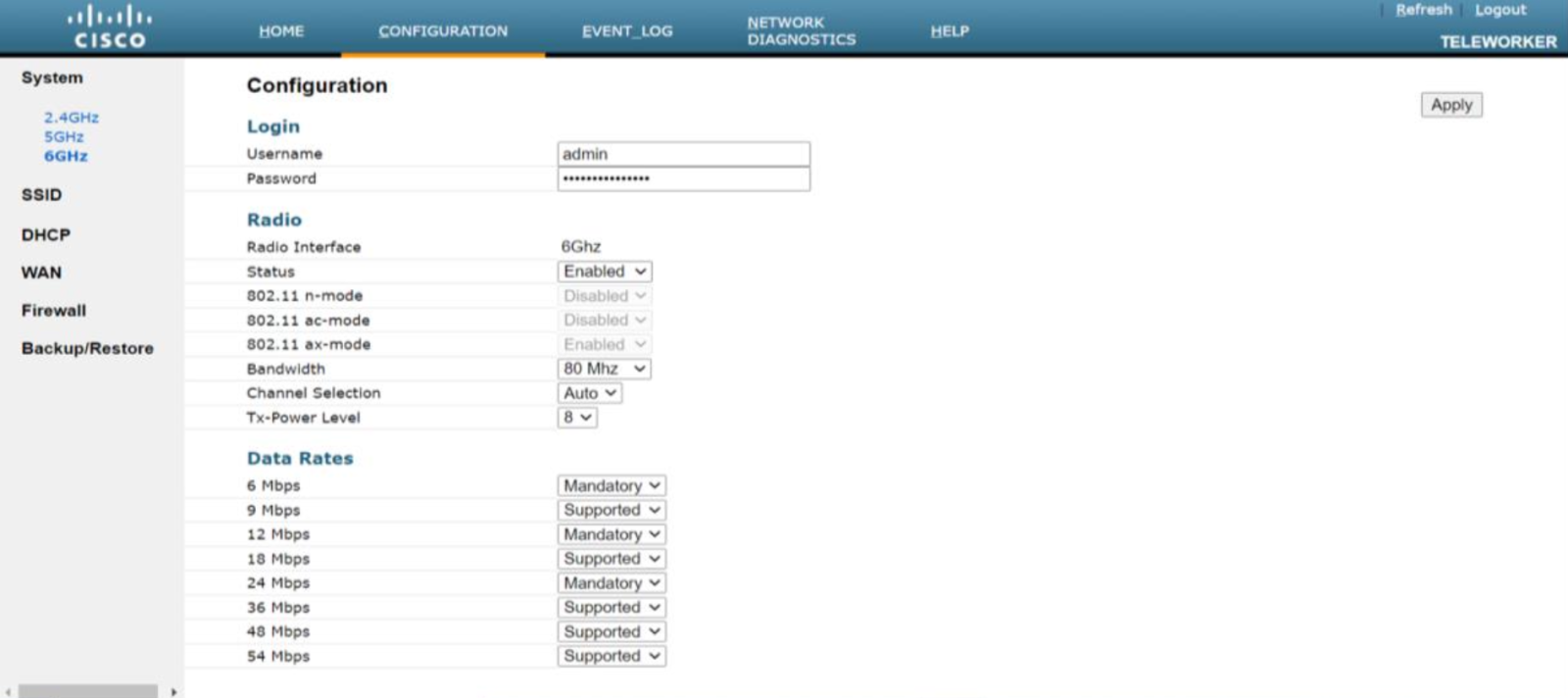 Site Survey mode will allow you to connect to the AP over the air (OTA), and receive a DHCP address that can be used to connect to the AP GUI.
Final Thoughts
This is the most excited I've been to test a new AP in a very long time… maybe ever? There are so many exciting things about 6GHz, and to see the results in person is really something. To be granted 1.2GHz of new Wi-Fi spectrum (in the US) allows us so much opportunity to make Wi-Fi the primary connectivity for much more critical device types. This AP is an excellent first foot forward for Cisco in Wi-Fi 6E, and I am very impressed with this AP. With all the radios, application container, and site survey mode, it packs a serious punch. I'm disappointed about the lack of EWC support, but hopefully there is a greater plan for that use case that just isn't being revealed yet.
This AP brought with it many firsts for me:
This is the first time I feel like mGig can really make a practical improvement in bandwidth to the AP
This is the first time I've had to work with PSCs and the different network discovery methods on 6GHz. It was a great learning experience for the field!
This is the first time I've seen an AP draw more than 40W of PoE
This is the first wireless speed test where I've been able to exceed 1Gbps (and by quite a wide margin)
This is the first time I've had to upgrade my operating system in order to be able to see/connect to an SSID. Old Windows 10 builds don't support 6GHz. Who knew?!
Read the official Cisco Data Sheet for the Catalyst 9136 here: https://www.cisco.com/c/en/us/products/collateral/wireless/catalyst-9100ax-access-points/nb-06-cat9136-access-point-ds-cte-en.html