Cisco's latest addition to the Catalyst 9100 Series Access Point Platform is one of their most flexible APs in the last few years. The Catalyst 9130 Wi-Fi 6 Access Point features a Tri-Radio setup, which allows you to run dual-5GHz radios while also having 2.4GHz enabled. I see this as being very helpful in environments where 2.4GHz is used for location tracking (healthcare, manufacturing, warehouses, etc.) and you need a very consistent and predictable 2.4GHz AP layout.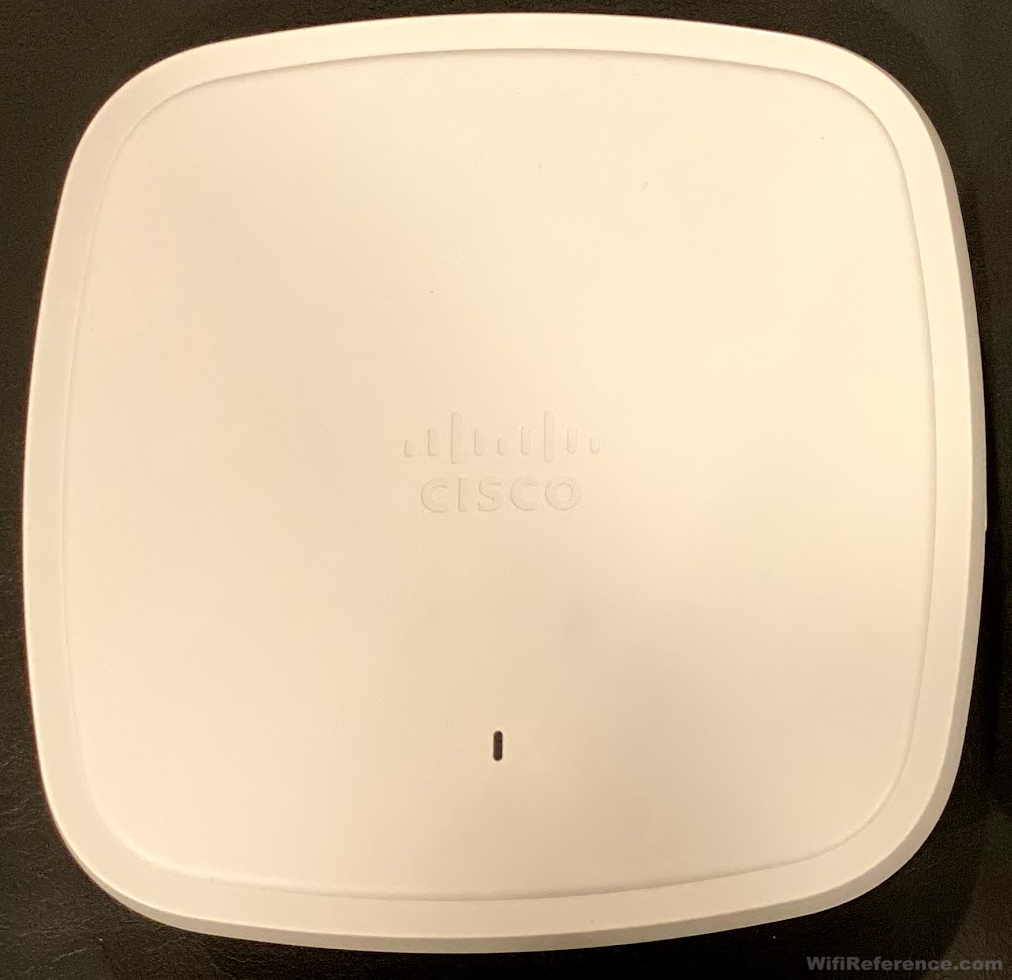 In many ways, the Catalyst 9130 AP can be thought of as the bigger brother to the Catalyst 9117 AP. They are both capable of 8×8 on 5GHz and they share some internal circuitry. However, one distinct difference is that the Catalyst 9130 AP is Wi-Fi 6 Certified by the Wi-Fi Alliance and the 9117 never will be.
I've been fortunate enough to be able to test this AP in my environment for the last month or so, and it has behaved remarkably well. While I haven't been able to test the Tri-Radio capabilities yet (it is coming in a future software release), I am impressed with how well it deals with clients that have a weak signal. The 8 transmitters and receivers really help out in that scenario. I don't have any 8×8 (or even 4×4) clients to drag race with, but I have done some OFDMA testing with a Galaxy S10 and iPhone 11 Pro. The AP has been stable and well-performing throughout my tests, so I expect it to be a very good AP in my customers' production environments. I can't wait to be able to see this AP in a high-density environment with a majority of Wi-Fi 6 clients to see MU-MIMO and OFDMA really make some headway in Tri-Radio mode.
Near the end of the article, I've posted some of my own comparison photos so that you can see how the 9130 looks next to some other Cisco Access Points (9120, 9117, 9115 and 4802).
Tri-Radio Capability
While Cisco is not the first to release an AP with Tri-Radio capability, I do like the way they implemented it. Tri-Radios give you a lot of flexibility in how you design the RF in your environment. You can have very dense areas with dual-5GHz, or medium density areas (or location tracking areas) with dual-5GHz+2.4GHz. And of course you can always just deploy it with a single 8×8 5GHz and 4×4 2.4GHz radio. The easiest way to think about it as 3 separate radios:
Radio 1: 2.4GHz 4×4
Radio 2: 5GHz 4×4
Radio 3: 5GHz 4×4
All three of these radios can be enabled simultaneously, on separate channels. In Tri-Radio mode, one of the 5GHz radios covers a "Macro cell" area, and the other 5GHz radio operates on a separate channel covering a "Meso cell" area. This is very similar to the AP2800, 3800 and 4800, except that the "Meso cell" coverage pattern is slightly larger than the previous "Micro cell." When operating in Macro/Meso cell mode, the 5GHz channels must be at least 100MHz apart (the system handles this for you automatically). Additionally, both 4×4 5GHz radios can be combined into a single client-serving 8×8 5GHz radio. If you have a lot of clients that support MU-MIMO, it may actually benefit you to run this AP in 8×8 mode.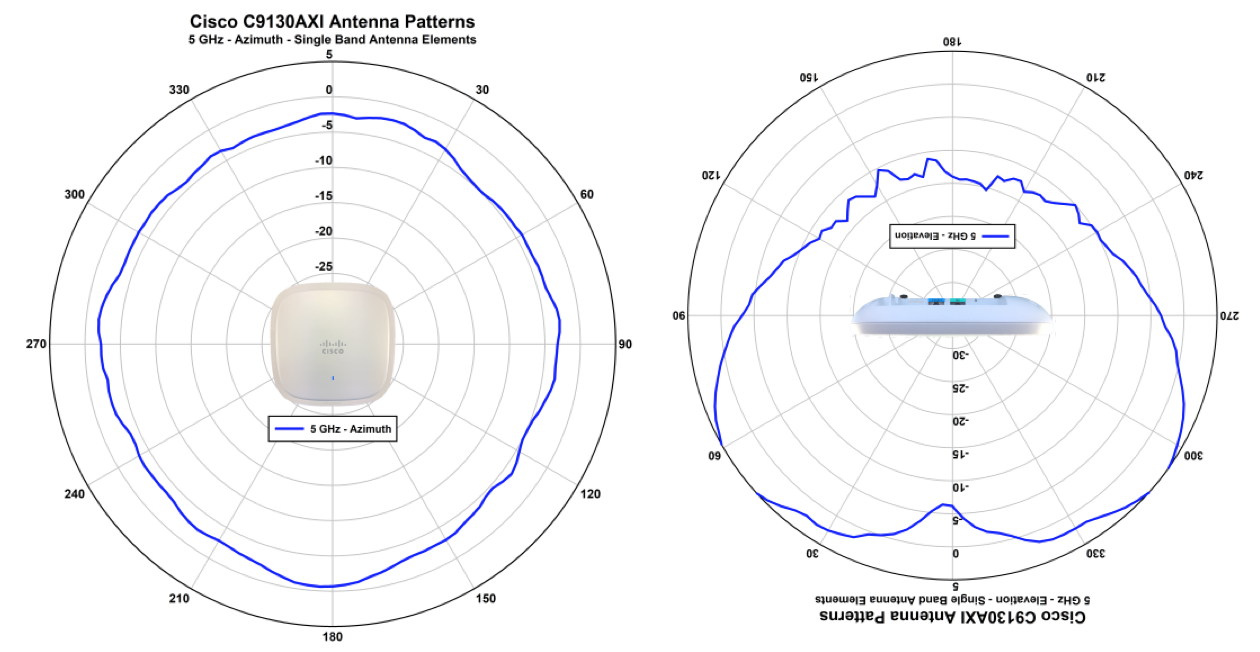 As with previous generations of Cisco APs with Flexible Radios, the radio modes can all be determined automatically or manually.
You can get a good look at the layout of the internal antenna elements in this photo: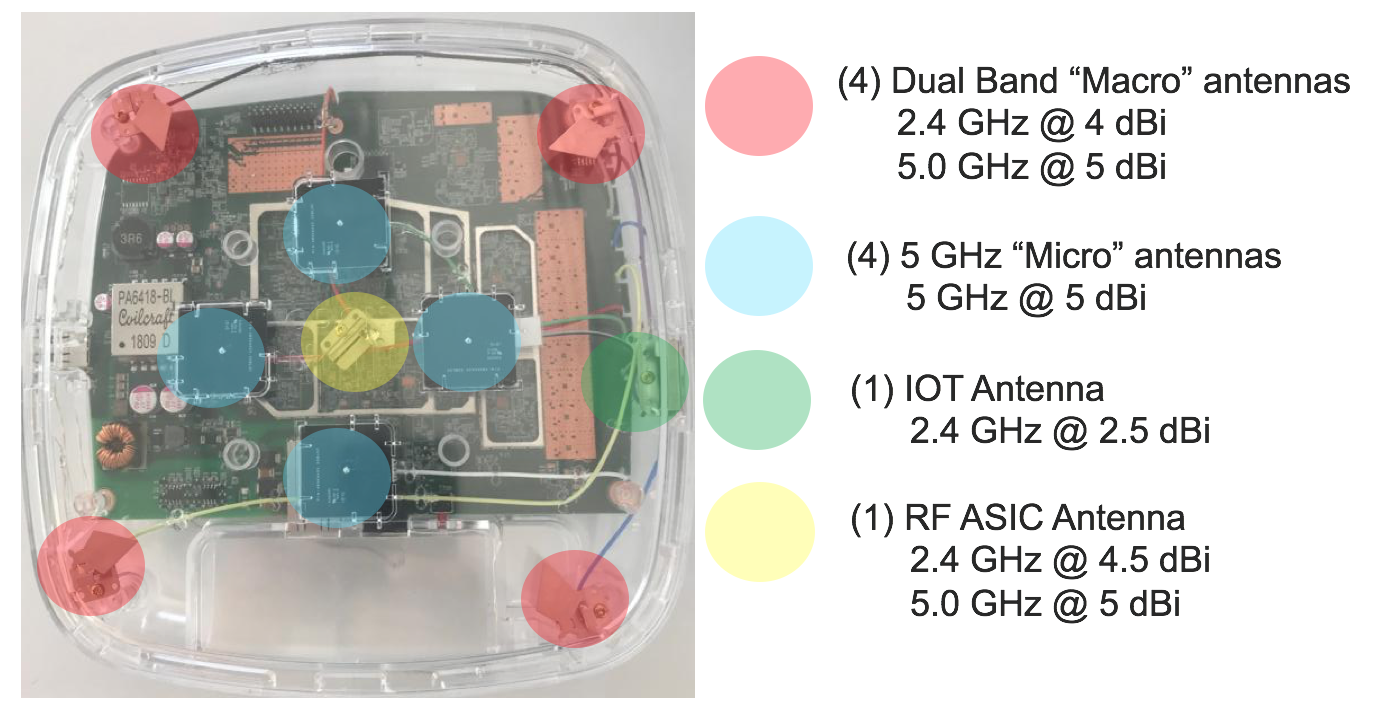 The "IOT" antenna above is capable of BLE, Zigbee and Thread protocols (same as the 9120 AP).
RF ASIC
The Catalyst 9130 AP has the same RF ASIC as the 9120 AP, with all of the same features and functionality. You can read more about the RF ASIC and its capabilities here: https://www.wifireference.com/2019/04/29/cisco-catalyst-9100-series-80211ax-aps-to-be-excited-about
Physical Dimensions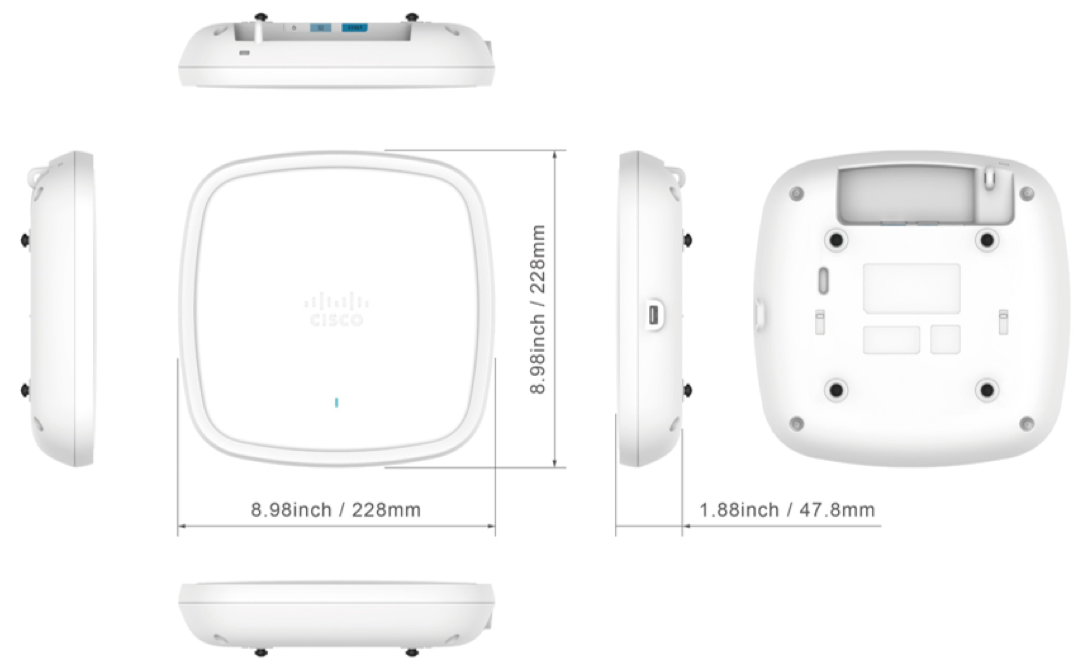 Catalyst 9130 AP Specifications
Model Numbers

Internal antennas: C9130AXI
External antennas: C9130AXE

Wi-Fi 6 Radio Modes

5GHz 8×8 + 2.4GHz 4×4
5GHz 4×4 + 5GHz 4×4 + 2.4GHz 4×4

OFDMA with 37RUs
Cisco RF ASIC for Layer 1 RF Analysis
IoT-Ready with Zigbee and Thread compatibility
8-Port Smart Antenna Connection (C9130AXE external version)
1x 5Gbps mGig Ethernet Port
Console Port
Intelligent Capture support with DNAC
Uses the same mounting bracket Cisco has been using for over a decade
PoE Power Requirements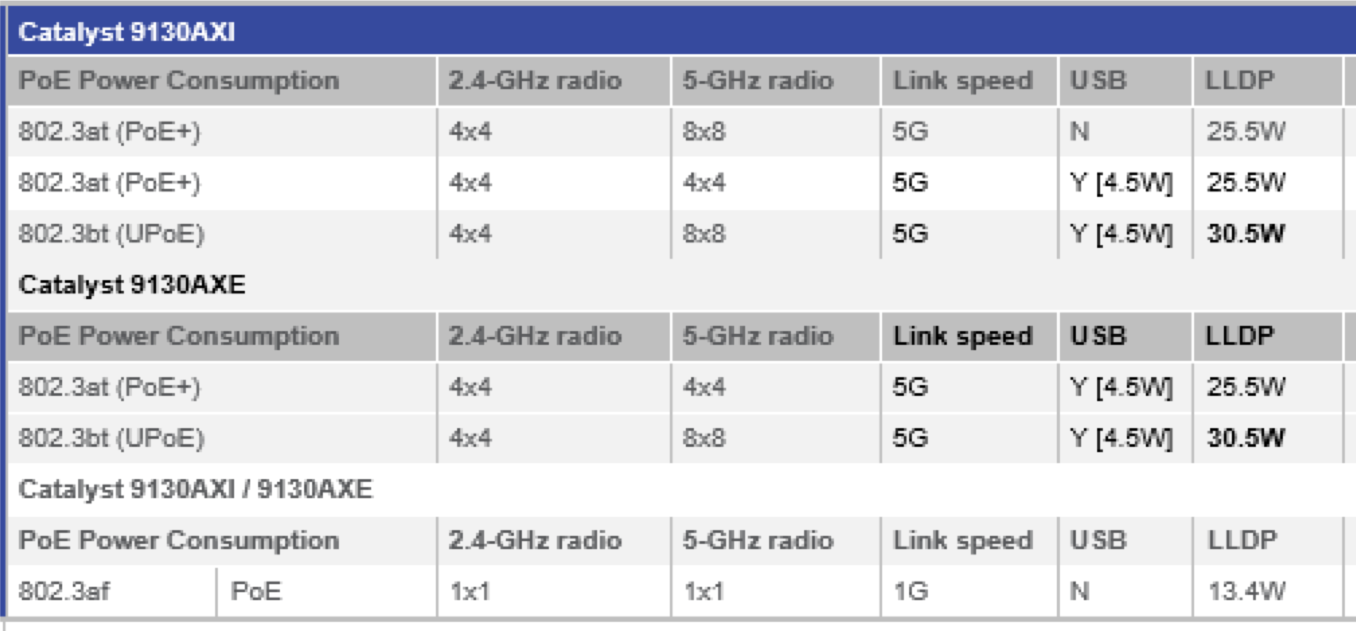 Minimum Supported Software Versions
AireOS: 8.10
Cat9800: 16.12.1s with AP Device Pack

Tri-Radio support is coming in 17.2. AP operates in dual-radio mode in the interim

DNAC: 1.3.1.2
Prime Infrastructure: 3.7
Have I mentioned how excited I am to see the AP Device Pack feature actually being used as intended? I worried this was going to be another one of those features that was touted at its release but never actually got any love by way of future AP Device Pack releases. I'm very glad to see actual AP Device Packs in the wild.
External Antenna model
The external antenna version of the 9130 (C9130AXE) will include a new DART connector that supports all 8 antenna elements. It is one of very few 8×8 APs in the industry that supports external antennas. And the DART connector makes it a very clean install.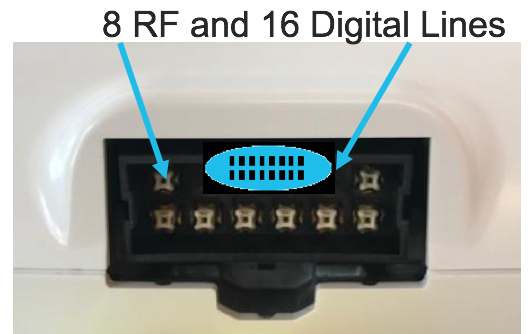 Note: The C9130AXE does not have internal antennas or RP-TNC connectors. The DART connector is the only method to connect an external antenna. Of course Cisco offers an 8-port DART to RP-TNC adapter (AIR-CAB-002-D8-R=). I believe they will also offer a DART to N-type adapter. The previous 4-port DART adapter cable is not compatible with the 9130AXE.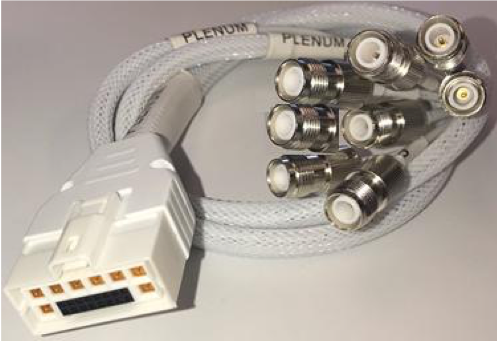 Cisco plans to introduce a line of antennas with direct DART connectors on them to make for the cleanest install possible.
Comparison Photos